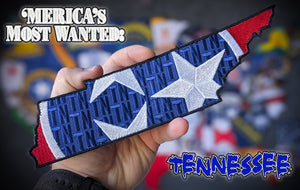 Patch Design #1: "Tennessee"
Drop Date: May 11th, 2021
Only 100 for sale, ever 
Measuring in at over 9" wide, this patch is over double the size of its 'M:EPU counterpart. It is also hook backed, so it will look great on your headliner!
This is a collection of some of the most sought after states from the past 'MERICA Series in a premium format.
And No, this won't bring about a new massive map.
Also, these won't interlock with the prior maps.
This is the start of a small assortment of the most in demand states, based on ISOs and 'Hey Bro' PMs to me.