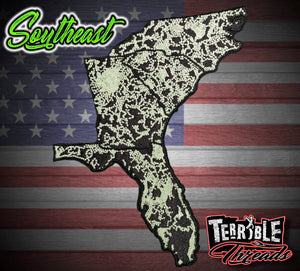 -- Limit 1 Per Person --
Patch #3 "Southeast"
Drop Date: November 10th, 2018
Drop Price: $20.00
The 3rd Hook & Loop Patch from the 'MERICA Series. This patch measures in at 7 inches!
When combined with the entire 'MERICA series, this will be part of an interlocking Hook and Loop backed patch set measuring in at just about 24 inches from East To West Coast!
This patch (and all other patches from the 'MERICA Series) is very limited to only 50 for  sale ever! Each patch comes with a hand numbered art card and includes a map of where the patch falls within the set.
And by the way... IT GLOWS IN THE DARK!!!