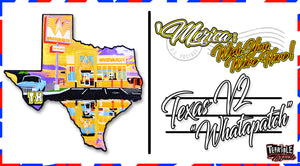 --- Limit 3 Per Order --- 
Design #39: Texas V2 aka: "WHATAPATCH"
Drop Date: November 4th, 2023
Only 75 for sale, ever 
Drop Price: $54.99

If You Know The Texas V1 From This Series, You'll See That I Kept The Same Design Composition, But Drastically Changed The Subject Matter. All While Honoring One Of The Most Unique States In The Union.
This Design Showcases The Front Of Another One Of Texas' Most Holly Institutions, WHATABURGER! There Is An Old School Pickup Making Its Way From The Drive-Thru Into A Parking Lot Where It Had Just Finished Raining. Revealing A Distorted Reflection Of THE Fast-Food Joint. In The Background Is A Beautiful Texas Sunset, With Rainclouds Disappearing In The Distance.
Patch Specs:
- A MASSIVE 9" Wide Diagonally 
- Hook Backed
When combined with the rest of this 'MERICA series, it will be one of an interlocking patch set measuring in at 30 inches from East To West Coast!
Just like the last Three 'Merica Series maps, each state will have its very own individual patch. So get ready for a collection that will keep you building the greatest country in the world from coast to coast