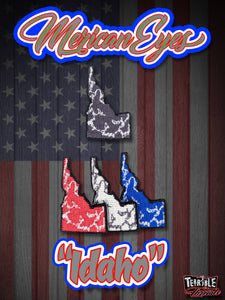 'MericanEyes: Idaho
50 Sets For Sale, Ever
Limit ***3*** Sets Per Order
EACH SINGLE ORDER SHIPS WITH "1 OG GREY" GITD RE IDAHO AND ONE OF 3 COLORWAY IDAHO PATCHES (Which Also Glow-In-The-Dark) RANDOMLY SELECTED. 
(So 2 Patches Total In Each Set!)
-Orders of 3 sets will ship with one of each color, guaranteed-
Patch Specs:
Each Patch Is Over 1.5" Tall
Hook Dot Backed (For Flexibility When Interlocking With Other States)
And They All Glow In The Dark!
These are the continuation of an embroidered "Ranger Eye" version of the first United States map " 'MERICA V1" produced by Terrible Threads that, once completed, will interlock from coast to coast! There will be colorways of each upcoming state that will match each of these colorways.