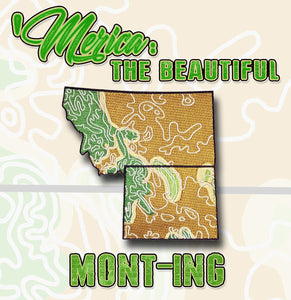 --- Limit 3 Per Person ---
 Patch #4: "MONT-ING"
(Montana & Wyoming)
A topographical map of the United States of America. This is a piece of the whole map, which stretches 30 inches wide from coast to coast!
This is the small drop, as promised, of 50 patches of this design. These come with a hand numbered art card and is in keeping with the amount that have already dropped back in 2019. These patches represent the rest of the 200 patches in total that were meant to drop, but due to logistics issues were unable to be done back then.