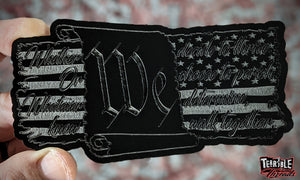 ***LIMIT 3 Per Person***
Drop Date: July 3rd, 2021
Specs:
Just under 6" wide & Hook backed
Only 76 for sale, ever.
Drop Price: $17.76
V2 - Black Acrylic: for those of us who work in the dark, protecting the light...
The design reads as follows:
"Whether WE decide to thrive.
Or WE choose to perish.
Whatever WE determine,
know WE walk together."